Darkside
Darkside was added in Patch 1.1 (Horde Mode Update) on the 8th of November 2019. Darkside is the map you play on in Horde mode, a 50 wave zombie survival gamemode. The map features a big barn, a windmill and a crashed Helicopter.
Farm-fresh grown guns and weapons
Powerup locations
Small

the top floor of the large barn, by the ramp
Large

by the truck on the right side, near the M6Bean
by the tree near the Gromato Launcher
by the small barn/stable, near the water tower
behind the well on the right side of the large barn

Large shield

behind the large barn, near the tractor

small shield
Chili
Easter Eggs
Darkside features two easter eggs.
The Radio
Inside the barn, you can see a radio on a picnic table near the entrance. If you walk up to the radio and press E, the radio will play a song. There is a total of 5 songs, 2 of which are versions of the main menu theme.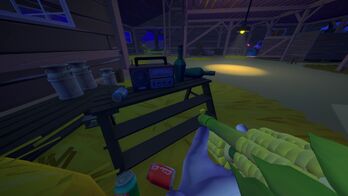 The Helicopter
If you walk inside the helicopter in the middle of the map, you can press E near the cockpit to "drive" the plane. What actually happens is a sound effect of a sad trombone will play.